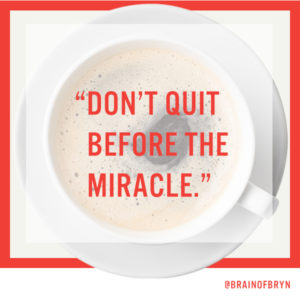 "Don't Quit Before the Miracle" is just one of the many bits of advice I share in a collaborative and fun interview I did for the super-talented designer and business owner extraordinaire, Cody McBurnett of LokiLoki. All for a series she created called: I am a Business, Woman!
Here is her description of the series and post:
Welcome to the latest installment of "I'm a Business, Woman," a series of conversations with cool, entrepreneurial women I love, doing cool shit. Today's conversation is with Bryn Johnson, owner and chief career mobility and management officer of the eponymous Bryn Johnson Group. Her executive career coaching business activates both sides of the career matchmaking process, helping individuals put the best version of themselves out into the marketplace to identify the next right career move. At the same time, she also offers recruiting services, engaging with many uniquely-inspired brands to hone in on the very specific challenges of their talent acquisition strategy.
See the entire post here— complete with career, connection and coffee insights and recommendations!